Matungu MP Justus Murunga was in a happy mood, he hosted several guests in his rural home in Makunda village before he collapsed and died.
The 60-year-old lawmaker was on his way upstairs for dinner at around 7.30pm when he suddenly felt very weak.
He was with his bodyguard and a domestic worker.
As they walked up the stairs, Murunga told the two that he was experiencing pain and breathing difficulties.
He collapsed a few minutes later.
The three had been inspecting ongoing construction works in the compound. Murunga had just indicated where he wanted a water tank installed when they were informed that dinner was ready.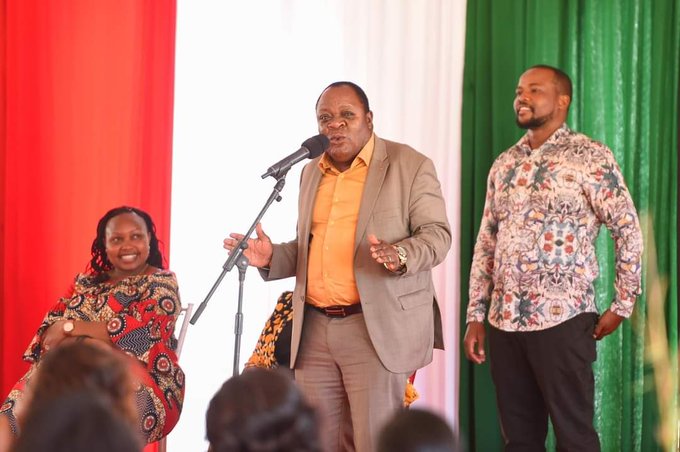 "He even walked around the compound at around 6pm with his employees," his brother Henry Wakisia said.
Earlier, the MP had hosted five people from his National Government – Constituency Development Fund team.
"When he was with them, Mheshimiwa was jovial and talkative. He was however weak, and one could see it," a worker told a local daily
He said Murunga met many guests from the constituency throughout the day.
After he collapsed, the MP was rushed to Matungu Subcounty Hospital but he could not be admitted because there was no oxygen.
He was immediately transferred to St Mary's Hospital in Mumias where he was pronounced dead upon arrival.
Murunga is survived by a widow, Christabel, who was at home at the time of her husband's death. They had eight children.
Murunga's body was ferried to the Lee Funeral Home in Nairobi.
UPDATE: The body of Late Matungu MP Justus Murunga leaves his rural home for Nairobi, where it will be preserved at the Lee Funeral Home. VIDEO | ABEL AMALA OF 'K24 DIGITAL' pic.twitter.com/Bdyxljjls7

— K24 TV (@K24Tv) November 15, 2020
The MP had been battling diabetes and hypertension and was admitted at the Aga Khan Hospital in Kisumu for two weeks. He was discharged on Wednesday after his condition improved.
There was no immediate confirmation on claims that Murunga died of Covid-19.
Murunga was relatively healthy until 2019 when he developed complications that prompted medical checkups.
President Uhuru Kenyatta led Kenyans in mourning the death of the lawmaker, sending a message of condolence to the family, relatives, friends and residents of Matungu constituency.
The President said the MP dedicated his energy to improving the welfare of the residents of Matungu.
"In this hour of sorrow, I convey my deepest sympathies and heartfelt condolences to Hon Murunga's family, relatives and the people of Matungu constituency. My thoughts and prayers are with you," Uhuru said.
The Matungu Mp who passed on due to Covid 19 Mr Justus Murunga once mimicked Covid while on a wheelbarrow donation tour with the Tangatanga crew. #ruto #kibaki #prof pic.twitter.com/k1jcRroMlq

— Maustine Tresor (@MaustineTresor) November 15, 2020
Deputy President William Ruto, a close friend of the MP said Murunga was a focused, hardworking and visionary leader who relentlessly advocated for the empowerment of the people.
"Mheshimiwa Murunga was steadfast, amiable and loving. We will miss his firmness, wise counsel and vibrancy to unite and transform the Western region," Ruto said.
ODM leader Raila Odinga also sent condolences to the family of the MP and his constituents.
"My sincere condolences to the family and friends of Hon Justus Murunga. My thoughts are with the people of Matungu for losing their leader at the tail end of his first term. May his soul rest in eternal peace," Raila said.
ANC leader Musalia Mudavadi said he was deeply saddened by the news of the passing away of Murunga. "I pray that God will grant his family strength during this unfortunate time. My most sincere condolences to his family and the people of Matungu," Mudavadi said.
Though a member of the ANC party, Murunga was a key ally of Ruto and often helped him to organise political meetings in Western.
Ruto was in Matungu last month where he attended a church service before addressing several roadside gatherings in the company of Murunga.
ANC chairman Kelvin Lunani said Mumias East MP Benjamin Washiali had taken up the task of co-ordinating burial activities.
"As a party, we will continue with internal arrangements to identify the areas where and how we can support the family during this difficult time," Lunani said.
RELATED POST:BREAKING NEWS: Matugu Mp Justus Murunga Succumbs To Covid-19