A top Al-Shabaab Commander who engineered an attack against Kenya Defence Forces (KDF) base in El-Adde Somalia has surrendered to the Kenyan authorities.
Khalif Abdinoor Mohammed, who over four years ago led hundreds of Al-Shabaab militants to a KDF camp in El-Adde surrendered on Tuesday at a Mandera Police Station as reported by Garowe Online.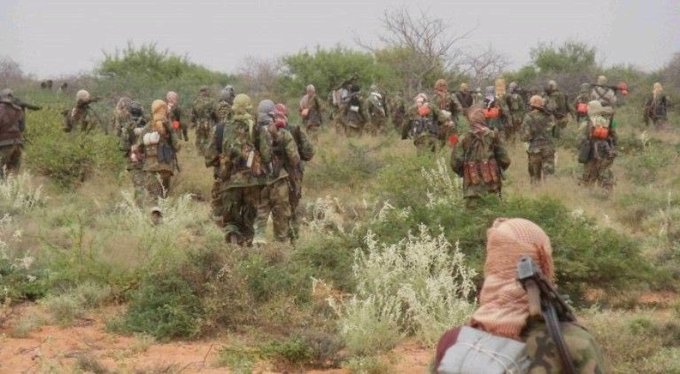 The attack which was carried out on the night of January 15, left close to 200 soldier dead with few casualties.
According to police reports in Mandera, Abdinoor Mohammed surrendered an AK 47 rifle with 3 magazines and 92 rounds of ammunition. The commander has been on KDF radar ever since the attack.
Al-Shabaab El-Adde fighter surrenders to Kenya
NAIROBI (Halbeeg News) – A man who allegedly fought alongside al-Shabaab fighters in an attack on Kenyan military base in Somalia which claimed lives over 200 soldiers turned himself in to Mandera authorities.

Heavily armed al… pic.twitter.com/fDzoSNmK7N

— Halbeeg (@Halbeeg_News) September 3, 2020
The police are however keeping an eye on him investing his motive to surrender before further action can be taken.  The suspected is believed to have participated in a number of attacks aimed against the police and KDF.
His decision to surrender comes at a time when it is being reported that Al-Shabaab is losing territories in Somalia and internal infighting escalating.
This comes just a day after Interior Cabinet Secretary, Dr Fred Matiang'i, ordered the freezing of funds and property belonging to nine individuals believed to have been supporting terrorism in Kenya.
In a statement issued on Tuesday, CS Matiang'i said the nine individuals are part of Al Shabaab network and have been financing the terror group while operating in Kenya.
They include; Halima Adan Ali, Waleed Ahmed Zein, Sheikh Guyo Gorsa Boru, Mohammed Abdi Ali (Abu Fidaa), Nuseiba Mohammed Haji, Abdimajit Adan Hassan, Mohammed Ali Abdi, Muktar Ibrahim Ali, and Mire Abdullahi Elmi.
"Today, acting pursuant to the provisions of Regulation 11(1) of the Prevention of Terrorism-POTA (Implementation of the United Nations Security Council Resolutions on Suppression of Terrorism) Regulations 2013, and having regard to the resolutions of the Counter Financing of Terrorism Inter-Ministerial Committee held on 5′ February 2020 pursuant to the provisions of Regulation 13(1) of POTA Regulations 2013, I hereby order the freezing of funds and property of the following individuals and entities…" said the CS.
"We shall neither surrender into the hands of terrorism nor play into the narrative propounded by terrorists of discrimination along ethnic and religious lines in this war. The only way to deny terrorists the means to threaten our way of life is to choke their facilitation networks, and this is why I have published the foregoing list so that they can no longer finance Al-Shabaab's operations within our borders."