ODM Leader Raila Odinga has finally broken the silence regarding the violence that was witnesses at Kenol in Murang'a County.
Odinga has urged political leaders to stop early campaigns as he condemned the chaos.
Raila appealed to leaders to acknowledge that systemic violence has plagued Kenya for far too long and all Kenyans need to commit to working together to confront and end it.
"Let's renounce the politics of violence and militarization of our youth as a mean of achieving power," he said.
"We must regard such politics as outdated and out of tune with our current aspirations to move past our divided and bitter past as a nation in favour of politics of engagement rather than confrontation."
Through a statement on Monday, the ODM leader said the spectre of violence and vandalism in the name of a presidential election that is over two years away, should be a serious cause for concern to all peace-loving Kenyans.
"I have been deeply disturbed by the violence. I pass sincere condolences to the families that lost loved ones and wish a quick recovery to those who sustained injuries in that senseless and unnecessary violence."
Raila said the seeds of violence being planted now could easily follow Kenyans into that election, with grave consequences.
"If this continues, and it easily can, it could spiral out of control and we will stagnate as a country, as the government will not deliver much in the remaining two years," he said.
"Out of fear and anxiety, our citizens will shift their priorities from rebuilding the country to an election that is way far."
He appealed to the Government to move with speed, and fairly but firmly deal with the people behind the violence.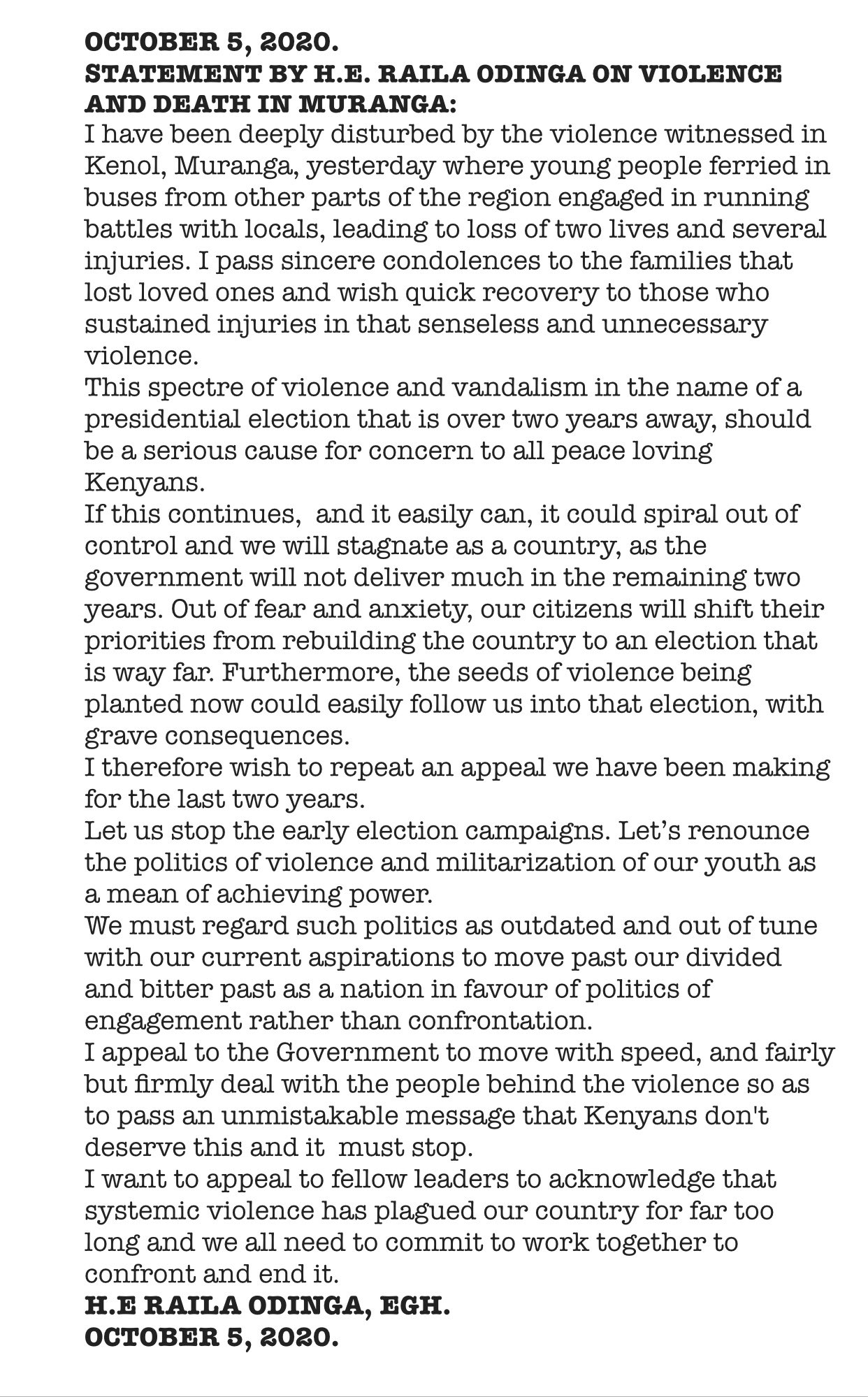 Two people lost their lives and several were injured during the Kenol fracas.
The incident occurred on Sunday before the arrival of Deputy President William Ruto and his allies.
DCI via Twitter on Monday said the two should appear on Monday morning at the Regional Criminal Investigations offices in Nyeri to assist Police with investigations.
This was after the IG Hillary Mutyambai gave the directive.
The National Transport and Safety Authority director-general George Njao also summoned officials of two bus companies to appear before them following the chaos witnessed on Sunday in Kenol, Murang'a.
The officials of Neo Kenya Mpya Commuters Limited and Joy Kenya Services Limited are to answer allegations that their busses were hired to ferry goons who caused chaos in Murang'a.
The NTSA boss said that the summon is per the implementation of the PSV Regulations, 2014 and in consultation with the Inspector General of Police.