Women; all they want is respect and some courtesy at the end of the day. So with your girl angry, breathing fire just know the next few words out of my mouth need to be respectful, courteous and appeal to her reasoning.
Telling her to "stop being a child and  is probably what will land you in trouble. That said, here's what I suggest:
Own it – That's right, own it. What I mean is that your woman isn't mad for no reason, she's pissed because of something in particular. If you try to give her the facts of the situation when she's inflamed she's likely to rip your mandible pecker off and knock you silly with it.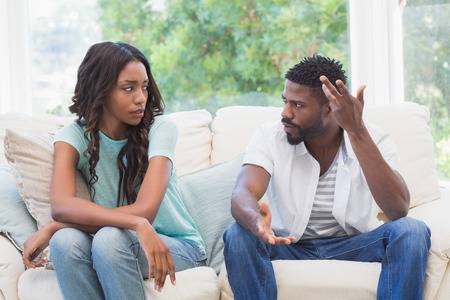 Instead tell her "Okay, okay. Can we talk, I didn't realize that this was such an issue," or "My bad, I'm sorry, but can we talk about this?" Try to calm her by getting more feedback from her. The key is to LISTEN!
Don't Hulk Up – Don't fight fire with fire here. You will lose and YOU will be the jerk. Remember that and also, the key from item 1. is to listen and ask her why she feels how she feels.
If she wants to be left alone, oblige her – Many times women don't want to deal with whatever is making them angry. When a woman is ready to talk, you'll know. Respect her imposed solitude. This one's especially tough because, personally, I want to strike when the iron's hot. A friend of mine is upset with me, but refuses to talk to me because she's upset. If she were a guy I'd be over at their place rapping on the door and bust it down, but women are just different…
Get specifics – This one can be tricky because she may tell you that you're insensitive. Okay, about what? Men deal in specifics, esoteric terms. Ask her questions about how she feels. There is something specific that she's upset about, unless she's a complete loony. Just be patient and help her understand that you want to get to the bottom of the issue and work things out. Did you guess that listening helps here? Well, it does.
Sex it out – If you are a brave and bold soul you can try the angry sex experiment. You'll never know if it's going to work unless you try. Either this will be a brilliant stroke of genius or she will knee you in the beans and send you packing. That's quite a risk for reward scenario.
So if your woman gets pissed, you have a few methods to calm her down at your disposal. If they don't work, run.