Kenyans living in Uganda are fleeing the country even as the much contested election gets underway with most of them fearing of post-election violence.
A report by The Standard stated that Kenyans who operate businesses in the capital city of Kampala, were making arrangements to have family members return to Kenya.
Kenyans in Uganda have cited the increasing cases of election-related violence and the heightened tensions in the capital as some of the reasons they have decided to take shelter back in Kenya from Tuesday, January 12.
"Security agents have been brutal and lives have been lost since November in confrontations involving police and opposition supporters.
"I have made up my mind to leave because we fear the situation could worsen," stated one Kenyan planning to leave the country.
A landlord in Kampala, whose flat had mostly been rented to Kenyans also confirmed that most of his tenants had exited the apartment without any guarantees of returning after the elections.
"All six bedsitter houses are now empty. The tenants took away everything they own, meaning they might not be coming back anytime soon," he observed.
It is estimated that over 28 people have lost their lives to the violence since November 2020 Ugandan security forces and supporters of presidential opposition candidate Bobi Wine.
Sporadic riots over the last few weeks have been sparked by the several arrests of Bobi Wine and his team. with the latest incidence having taken place at his home on Tuesday during a live interview with Kenyan radio station, Hot 96.
Authorities, who are expecting post-election violence to erupt after the voting exercise slated for Thursday, January 14, have deployed security forces majorly in Kampala.
Uganda nationals in Kampala have also reportedly been leaving for the village in fear of violence.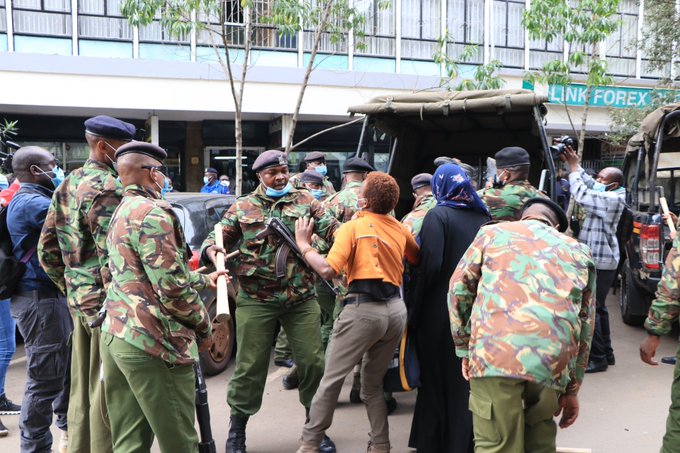 On Wednesday, January 13, four Kenyans were arrested outside the Ugandan Embassy in Nairobi while preparing to issue a statement regarding the tensions in Uganda ahead of elections.
Those arrested included Haki Africa Executive Director Hussein Khalid, Beatrice Waithera, Ojiro Odhiambo and Yassah Musa.
RELATED POST:Uganda Shuts Down Internet Hours Before Voting Starts