Musician Brown Mauzo has jotted down a romantic letter to his fiancé socialite Vera Sidika as she celebrates her birthday.
"You walk into my life, unexpectedly and I found myself falling deeper and deeper in love with the person you are, happy birthday, fiancé. Sometimes, when I think about you I cannot stop thinking about our future too. I was right about you all the time. Sweet, loving, caring, and responsible lady. All I ever dreamed of. So on your birthday, I want you to have the things that will make you happy. I will support you all the way. Have a wonderful birthday, honey. I love you," he said.
The two have been rumored to be in a relationship for the past one month. The rumor started when the socialite shared a black and white image on her Insta stories last week and fans pointed out that the man in the photo could be the singer.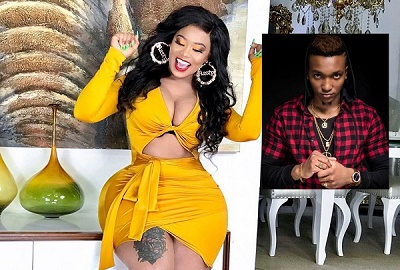 Prior to her post, Mauzo had also shared a snippet of a video in the company of a lady whom fans did not see but only heard laughing.
After Vera's post, fans pieced two and two and revealed that it could be Mauzo because of the chain he was wearing.
Speaking in an interview on Bonga na Jalas, Vera did not confirm if she is dating Mauzo but revealed that she is not single. Asked why she moved to Mombasa, the curvy lass said she wanted to tap into the coast potential as well as be close to her man.
"Many of us set up businesses in Nairobi and neglect the potential in Mombasa and I wanted to tap into that potential. Plus me being in Mombasa means I get to spend time with bae." She said.
Jalang'o then asks her if the man is Kenyan and why she has decided to keep her relationship secret.
"Yes he's Kenyan and he's in Mombasa. You know if something is special, sometimes you just want to keep it to yourself." She added
Vera did not however reveal her new man's name but knowing her, don't be surprised if she unveils him soon. Mauzo has been dating socialite Amber Ray for the past couple of months and it is not clear if the two have been having any relationship issues.
Just to confirm how deep their love is, Vera Sidika has posted a photo on her Instagram showing an engagement ring.
She wrote, "Sweethearts, your girl got engaged on 24th September 🥰❤️ it was the Best pre-birthday gift ever!!! If someone told me I'd be engaged in 2020 I wouldn't have believed it 😩 and just like that, like a dream …I'm engaged! To the most amazing human ever! Saying YES to you was the easiest because we became 1 from day 1 & I pray for forever. May God lead us on 🙏
It's my birthday today but lets celebrate BOTH!
🎉HAPPY BIRTHDAY TO ME"