A money-laundering suspect shocked the police in Chuka, Tharaka Nithi County, after confessing to stealing Ksh.20 million from the terror group, Al Shabaab.
Lawrence Kiragu Mugendi was arrested on Tuesday, January 12, 2021, on account of operating a fake money syndicate in Somalia.
Meru South Sub-County Police Commander David Ngondi said the suspect had told officers that he had stolen Ksh million from the terror group.
The commander said Mugendi was wanted by the police after defrauding Kenyans through a money syndicate.
"We have been able to arrest a notorious criminal who has been defrauding people in a scam known as wash-wash.
"The arrest of the suspect is a major breakthrough in the fight against money laundering not only in Tharaka Nithi County but also in the neighboring counties where they circulate the fake money," Ngondi stated.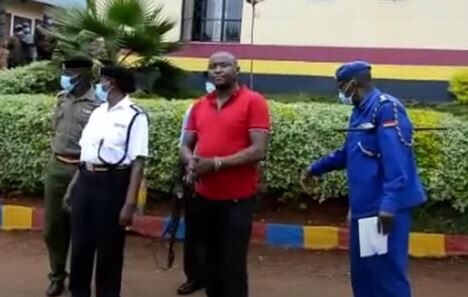 "He says that since 2018 he was in Somalia, and he stole money given to the Al Shabaab as ransom. So he has a lot of money," he added.
Mugendi was reportedly after conning another Kenyan after meeting on social media.
The police said the suspect meets most of his victims through social media after which his friend request them and after a while seeks to meet them in person. it is after that he shows than Ksh28 million in fake cash and tells them the only thing left is chemical to authenticate the cash.
The police said it is then that Mugendi sells them the Al Shabaa story, and victims resort to giving him money to buy chemicals in hope of making millions.
"Upon the news of the suspect's arrest, two people have reported having been conned Sh870,000," Ngondi stated.
He urged members of the public who have been conned by Mugendi to present themselves to the station and advised Kenyans to be wary of such antics by con men.
Related: Governor On Spot For Claiming Al Shabaab Controls 70% Of North-Eastern Region